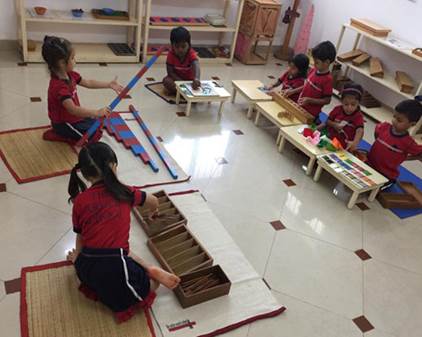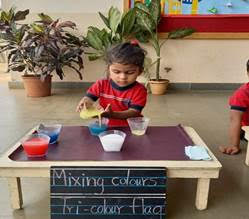 18 Months to 2 Years (Toddler Program: Mother and Child community)
Nido, which means 'the nest' in spanish. It provides age appropriate Montessori experience to children aged 18 to 24 months. The classroom accommodates a maximum of twelve children with one teacher. The children come in three times a week for a one and half hours of Montessori experience. It is mandatory for the child to be accompanied by a parent. The children come to feel the classroom and build it as their own peaceful, special space where they play a meaningful role under the care of their teacher and parent.
The classroom is carefully prepared to meet the unique needs of this age. All furniture are of the size that allows maximum independence and the toddler materials are designed to be attractive and inviting to the children.
Social interaction with other children, development of language skills, care of oneself and the environment, food preparation, art, music and movement activities are integral to the Montessori toddler experience.
The teachers are fully trained and model the behavior expected out of children. An open, supportive relationship between teachers and parents is essential to providing optimal conditions for the toddler in the Montessori classroom. Mothers also gather useful tips on parenting as they see the teacher as a role model. These parent education classes contribute to an atmosphere in which each child can realize his or her full potential.